Why Is My Engine Running But My Auger Is Not Turning?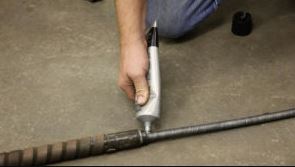 There are many advantages to having a Little Beaver mechanical earth drill. Their compact size and ability to quickly and efficiently drill holes make them ideal to be used by both contractors and homeowners. Mechanical drills can be used for a variety of different outdoor digging tasks like drilling fence post holes, landscaping, or even when placing footers for a deck. However, it is important to remember that these powerful machines require regular maintenance to allow them to run smoothly and perform as they should.
There are many ways your mechanical drill could be showing you that it is time for repair or replacement. A common issue that people run into is that their machine's engine will be running, but their auger will now turn.
What May Be Wrong With Your Drill
In this situation, there is likely an issue with the flex shaft. To be sure, fully inspect your mechanical drill for any signs of damage like cracks, breaks, rust, or large build-up of dirt. If your unit is dirty, the build-up of soil could be causing the drill to malfunction, so it is important to clean your drill after a big project or once a month.
While looking over your earth drill, if you notice that there are broken wires or signs of deterioration, it is time to replace the housing of the shaft. However, if no signs of damage are seen, remove the flex shaft from the housing, as it is likely it needs to be cleaned and lubricated. To keep your drill running as it should and prevent damage to your flex shaft, it is recommended that you clean and grease the shaft after 50 hours of use.
How To Replace The Flex Shaft Of Your Mechanical Drill
For more details on how to properly care for and repair your Little Beaver earth drill, please reference your owner's manual.
Manual