Little Beaver Auger Bits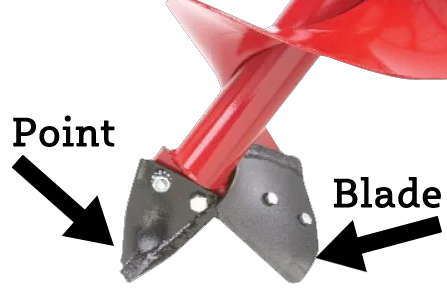 Choosing the right auger bit can significantly improve the efficiency and timespan of the project. Little Beaver auger bits come in various materials and shapes to cut and drill through even the rockiest of soils. The bits, also commonly referred to as points and blades, are the components that do that actual cutting as the auger rotates, which protects the auger flighting from excessive wear. Little Beaver's auger bits can quickly be changed out after becoming dull so operators can focus on drilling.
Standard Bits (Points and Blades)
Little Beaver standard bits are designed for ordinary digging. These are generally used for clay and dirt or areas with few rocks. They are not meant for highly abrasive or compact soil. The standard blades are great because they are reversible and replaceable for extended life. The standard bits are made with cold-rolled steel and hard surfacing to their edges. With standard points and blades, the expected lifespan is over 100 holes in prime soil conditions before servicing is needed.
Carbide Bits (Points and Blades)
Little Beaver carbide auger bits are designed for much denser ground, like hard clay, loose rock, and frozen conditions. The durable carbide tips are excellent at cutting the material into small pieces. These bits are not reversible, so they will need to be replaced after they become dull. The lifespan of these types of bits is dependent on soil conditions. Carbide bits, specifically the blade, also come in a chisel tip for the harshest conditions. They are designed to channel the power into the small chisel tip to cut through dense, compacted rock. When needing heavy-duty chisel point blades, it is recommended to operate the drill at a slower RPM speed and work best with 20:1 or 13:1 gear ratios.