How To Choose The Correct Point & Blade For Drilling
Before starting a drilling project, there are a few important preparation steps that must be taken before any digging can begin. The first and most important step someone should take before digging is to call 811. This safety resource is accessible nationwide and is a pivotal safety measure to ensure that while digging, you do not hit any underground utility wires or piping. It is recommended that before drilling, call 811 or visit their website at least 48 hours before your scheduled dig. This will allow one of their team members to come out and mark where all buried wires and pipes are located on the property so they can be fully avoided during drilling.
After the proper safety precautions have been completed, it is time to determine what type of soil you will be drilling into. Depending on where you are geographically located will often determine what type of soil you will be digging into. Some areas are prone to soft, sandy soil, while other parts of the country have dense and rocky soil. The reason it is important to know what type of soil you will be digging is to know what type of point or blade will need to be attached to your auger. A lot of people do not know that augers are not what cut into the ground that allows you to dig. Instead, it is the point and blade that is attached to the tip of your auger that cuts through the soil, while the auger's rotation removes the loose dirt from the hole.
Below are the five types of soils you might run into while drilling and what type of point and blade is needed for that kind of soil.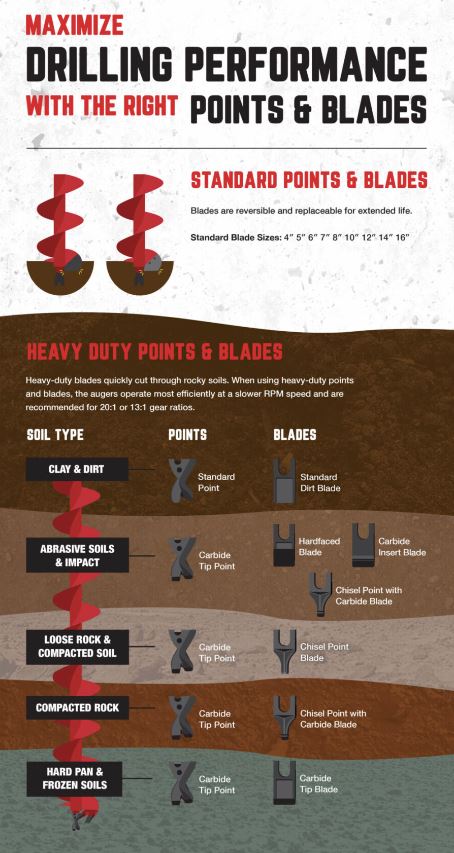 At Little Beaver Store, we stock a wide selection of points and blades to ensure that no matter what kind of soil you need to drill into, you are able to do so efficiently.
Shop Points & Blades