How Deep Can I Dig With A Little Beaver Auger?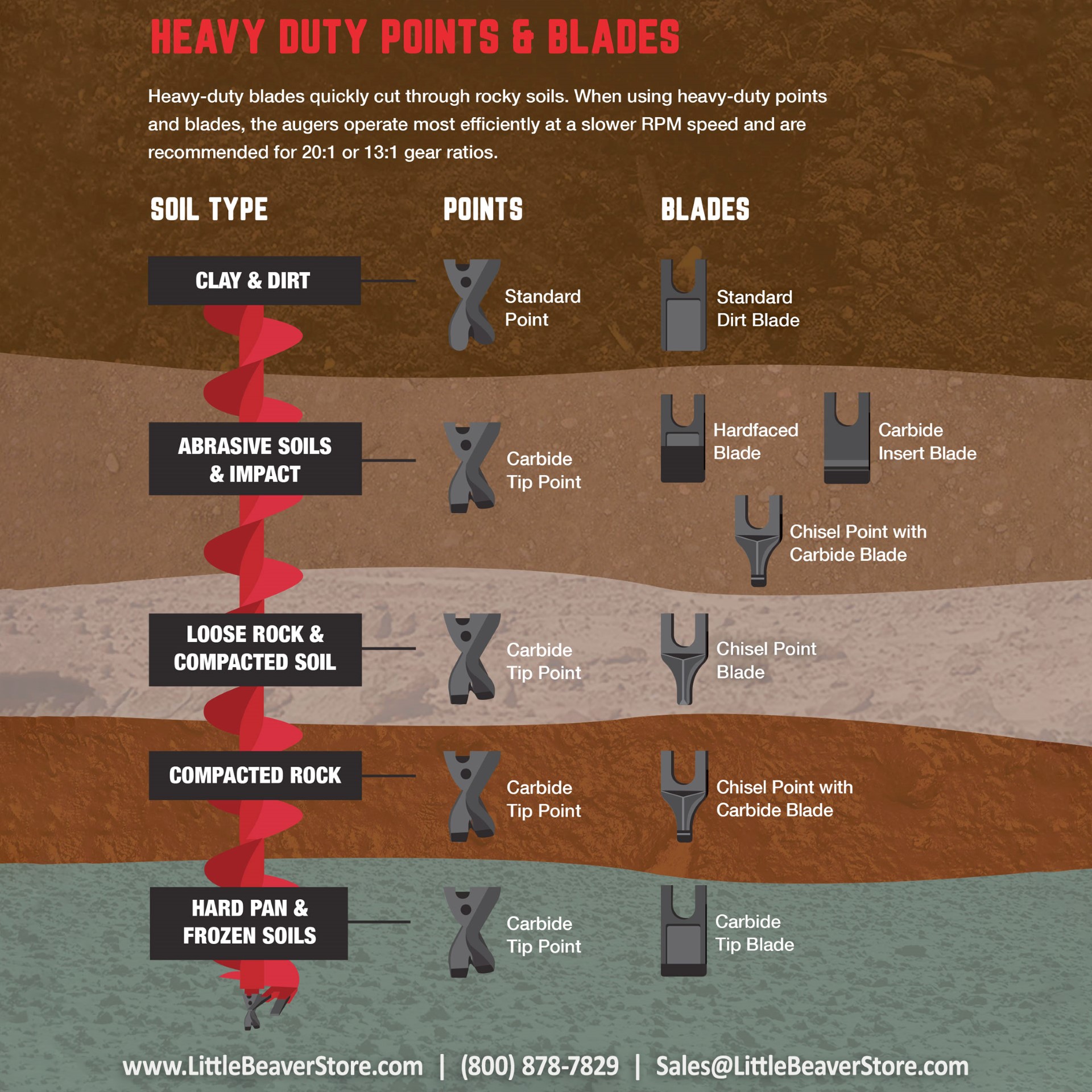 A Little Beaver auger is a great addition when needing to dig multiple holes at your home or on a job site. We know that every installation is different and can call for different size holes in depth and diameter. So how big a hole can a Little Beaver auger dig?
The answer is dependent on many different factors. One of those factors is the condition of the soil you will be drilling in. Softer ground is typically much harder to dig deeper holes due to the fact the walls of the hole are not structurally stable. While rocky, dense earth is harder to dig into, it can support larger depth holes.
Another factor to consider is the diameter of the auger you are using. The larger the auger, the deeper you can dig. Also, keep in mind that the length of your auger does not equal the depth of the whole. For example, if you were to use a 42" auger, the max depth of the hole you can dig is 36". If you are in need of digging a larger hole than the size of your current auger, we do offer a large selection of extensions that can be easily added to help you achieve your objective.
| Auger Size | 1.5", 2", 3" | 4", 5", 6" | 7", 8" | 9", 10" | 12" | 16" |
| --- | --- | --- | --- | --- | --- | --- |
| 5 HP Models | 9' | 9' | 6' | 6' | 3' | 18" |
| 8 HP Models | 12' | 12' | 9' | 9' | 6' | 18" |
| Hydraulic Towable | 6' | 6' | 6' | 6' | 6' | 18" |
| Hydraulic One-Man | 12' | 12' | 9' | 9' | 6' | 18" |
| Hydraulic Two-Man* | 21' | 24' | 15' | 12' | 12' | 18" |
Are There Specific Blades To Dig Through Different Earth Types?
The best part about Little Beaver snap-on augers is the many blade and point options. Even if you purchase a standard snap-on auger, if you later want to dig in more abrasive soils, you can buy a hard-faced or chisel point with a carbide blade and a carbide tip point. Depending on the depth and landscape type you wish to dig, you may need several points and blades to achieve your goals. If you're confused about what blades and points will work in rock or soil, this handy chart will help you pick the right blade and point. You can either download or print it out to use as a reference when looking at Little Beaver parts.
How Easy Is It To Replace Little Beaver Points And Blades?
Blades and points can be removed and attached by removing the two steel bolts. Usually, points and blades can dig about 100 holes before they require any maintenance. If you want your blade to last longer, purchase a reversible blade. Many of Little Beaver's blades can be reversed when they wear out and last twice as long as regular blades. The most important part of purchasing a blade is making sure it will work with the type of soil you are digging in. An improper blade can damage your auger flighting if it wears out fast.
Looking for replacement blades for your Little Beaver augers? Peruse our complete selection:
Shop Blades And Points